James Acaster: Aversion Therapy – Big Issue North
Just a few years ago, comedian James Acaster looked ready to leave stand-up behind forever but now he's back. Was it him that changed or us?
James Acaster isn't a people person. At least, that's the impression he gives off. That's not to say he doesn't like people; as a stand-up comedian, they kind of come baked into the job. However, after talking to him for a few minutes, it seems like his problem lies more with other people's perception of him.
"I recently toured Scandinavia and you get different heckles there. I've had some very different heckles in Canada as well."
He's got reason enough to be suspicious of the general public. After all, the 37-year-old, Kettering-born comic looked about ready to bin off stand-up altogether after delivering his most personal show yet, 2020's colourfully titled Cold Lasagne, Hate Myself 1999. Ditching the faux personas used for his quartet of hit Repertoire shows in 2018, Acaster laid everything on the table to reveal the real person hiding behind the gags and candidly discuss his mental health struggles.
The reaction was varied. Despite being championed as his best work to date by those who welcomed his honesty, others resorted to heckles. When all was said and done, he was more than ready for a break.
"Right now, I don't want to do it again, ever," he told comedians-on-their-comedy podcast Good One shortly afterwards. But now he's touring the US and has released a book. What changed?
"I feel like it's way on my own terms now," he admits, speaking to Big Issue North in between a handful of work-in-progress performances of his new show, Hecklers Welcome. "I'm not gigging as much and doing the gigs that I want to do, rather than filling my diary just because I feel like I have to. I'm also setting the parameters a little bit more for myself for every gig. How I communicate with the audiences is different and I've really been enjoying it, but at the same time, I'm not planning that far ahead with stand-up. I'm just taking it as it comes."
Born in 1985, Acaster has quickly become one of the most exciting, innovative and popular UK comics working today. He's also become a kind of figurehead for a young generation of comedy lovers who like their humour with a slice of frank sincerity. Between panel show appearances, his Off Menu food podcast that he co-hosts with fellow comic Ed Gamble, and Cold Lasagne's razor-sharp take-down of comics with apparent anti-trans obsessions, he's inspired plenty of viral moments. But if you missed those, you no doubt caught his meme-inspiring crisis while filming The Great Celebrity Bake Off ("I started making it, had a breakdown… bon appétit!). Acaster's skill in mixing the absurd with the honest seems to have made him the perfect comedian for our complex times.
It hasn't come without its drawbacks, however. After Cold Lasagne's release, Acaster was still left with one pretty big problem that he was determined to fix.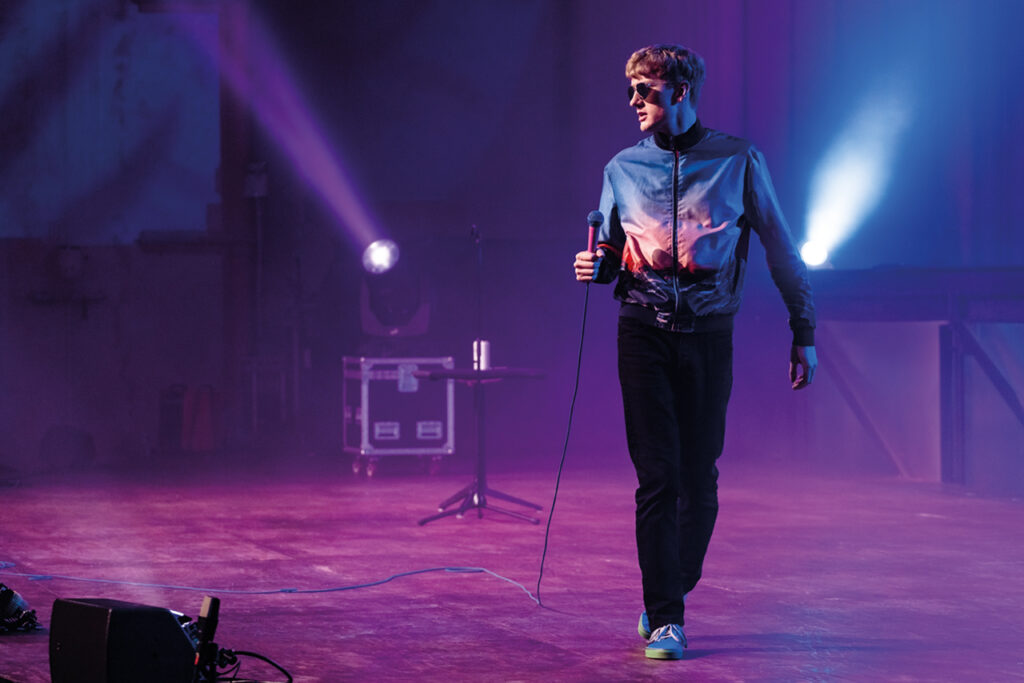 "At the end of the Repertoire shows, I felt I'd taken the idea of making up lies on stage, telling them and having the whole thing be a metaphor for my real life as far as I could," he says, referencing his four, hour-long, character-based Netflix specials. "I thought I should talk about my real life a bit more. At the end of Cold Lasagne, I felt I'd done that, it was fun and I could progress further down that route, but my relationship with the audience wasn't good – and it hadn't been good, really, since day one."
The root of this strained relationship appeared to lead back to that familiar theme of perception. Following Cold Lasagne, Acaster took people out of the equation altogether by removing himself from all social media. He even penned a very tongue-in-cheek self-help book, James Acaster's Guide To Quitting Social Media, for anyone looking to follow in his device-free footsteps.
"I wouldn't really enjoy being in front of the audience and I'd feel quite vulnerable and defensive up there – but I knew it was my problem and not really their problem. Audiences weren't bringing that to the gig, I was," he admits, highlighting his self-awareness. "I thought, okay, for the next show, the thing I want to improve upon is how I relate, interact and communicate with the audience."
The end result is the show that Acaster is currently refining. Titled Heckler's Welcome, this work-in-progress hour openly invites the very thing he seemingly fears the most: an open dialogue with the people he's performing to.
"I'm not even calling it a 'show' at the minute – it feels like an exercise every time I go on stage," he says over Zoom, noticeably more low-key than the energetic and confident persona he reserves for the stage.
"The idea is to get on stage and let [the audience] know they can do what they want during the show. I'm not inviting heckles. The idea isn't I stand on stage and they shout the worst things they can think about me and I have to deal with it all. So far, I've had shows where audiences don't heckle for the whole gig and just sit and watch and I've got plenty of material that explains why we're doing a show like this."
That said, the show's title has, perhaps unsurprisingly, left some people eager to get involved and Acaster's keen to use these interruptions as valuable learning experiences.
"The shows where people are shouting, talking amongst themselves, on their phones or walking in and out of the room can be really fun as well and help illustrate what we're talking about."
Has he found facing this problem head on uncomfortable? "Naah, it's been very nice," he says. "I was definitely tired of how I was doing things before and I didn't want to do that again. It's totally liberating going on stage and letting go of the obsessiveness of a show being perfect. Not every gig has to be this perfect experience for me. The audience has paid, so just give them the best show you can."
It's also forced him to reinspect his old ways of dealing with certain situations.
"It's been a fun experience having people shout out and not feel annoyed about it. When you tell people they're allowed to do it, it means when they do, you don't get annoyed. That person doesn't think they're disrupting or ruining the show. They think they're doing what's allowed, so I don't have any animosity towards them. I don't feel like, why is this person doing this to me, which is how I use to feel whenever I was doing a carefully written show about my life, mental health or even about being an undercover cop," he says, referencing one of his sillier Repertoire roles.
"I used to think, why would someone interrupt this thing I've written for them that I want them to enjoy and ruin it for the people around them? Now I see it as an opportunity to try and have fun with it. It's definitely been a very positive change."
Briefly touring the show in Europe, Acaster brought Heckler's Welcome to Manchester's Laughterama open-air comedy festival at Castlefield Bowl in late September. While still a little rough around the edges, there was plenty to enjoy in watching Acaster take an unflinching look at his own unusually fraught relationship with people and his contradictory desire to be the centre of attention. And audiences seemed keen to hear him out, with rarely a heckle heard.
"I recently toured Scandinavia and you get different heckles there because it's culturally different. I've had some very polite heckles in Canada as well," he laughs. "People turn up intrigued and either decide to heckle for the whole thing or just one person does for the entire show and the audience still gets annoyed with them, even though they're allowed to do it. That's always interesting because I've got to stand up for that person against an audience who hates them."
James Acaster's Guide To Quitting Social Media is out now, published by Headline
A crash course on James Acaster's career
Repertoire
Delivered in four, one-hour chunks and available to stream on Netflix, James Acaster's quartet of comedy specials provided many people with their first encounter of this odd British comic. Throughout episodes entitled Recognise, Represent, Reset and Recap, the 37 year old hides his true persona behind a series of metaphor-based characters, from an undercover policeman to a lollipop man. Don't be fooled by the silly though, as these stellar specials still manage to perfectly skewer big topics like Brexit and spaghetti bolognese.
Cold Lasagne, Hate Myself 1999
Dressed in clothing resembling an LA sunset, Acaster followed the fakery of Repertoire with his most critically praised show to date. Cold Lasagne, Hate Myself 1999 finds the comic in typically silly form but also at his most vulnerable, detailing a painful relationship breakdown involving Mr Bean and a mental health battle partly inspired by a meltdown moment on The Great Celebrity Bake Off that later became a viral hit. It also features a piece on comics' fascination with the transgender community that'll likely be shared for years to come.
James Acaster's Guide To Quitting Social Media
In 2019, Acaster did what we're all constantly threatening to do but never actually following through on: he up and quit all forms of social media. Refusing to look back, he wasted no time whipping up this very tongue-in-cheek self-help guide that can help you (yes, you) follow in his footsteps and cut the toxicity and time-stealing terrors that are Twitter, Facebook and the like out of your life. That said, be sure to take the advice offered in this book with a pinch of salt. We can't help but think there are better ways of quitting socials than pouring red hot tar on your phone.
Off Menu
Co-hosting with his friend and fellow stand-up Ed Gamble, Off Menu is Acaster's long-running podcast that he's been churning out weekly since 2018. Food-focused, the show invites a variety of big-name guests to share details of their dream meals, from starter, main course, side dish and drink, all the way through to a lovely dessert. Since its inception, Acaster and Gamble have welcomed guests as varied as Grace Dent, Bob Mortimer, Dan Aykroyd and Sue Perkins, with each sharing their dream dish and making that all-important choice: poppadoms or bread?
To get your hands on the latest mag, you'll have to buy one from one of our vendors. Vendors sell on agreed pitches in city centres and out of town areas across the North West, Yorkshire and Humber.
Subscribing to Big Issue North ensures you receive each copy weekly, saving £1 per magazine on postage! Single issues are also available to purchase on our shop

Go
Web Design Manchester by Carbon Creative
Download and subscribe to the Street News app today, for unlimited access to stories that raise the voices of marginalised communities around the world. Subscription is just £4.99 a month, and all income from subscriptions goes to Big Issue North Trust and helps vendors in the North of England to make positive changes to their lives.